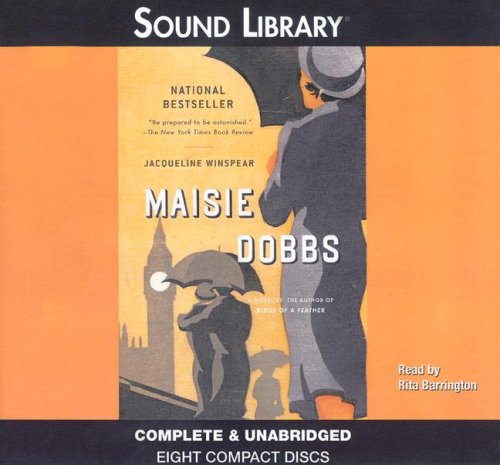 Maisie Dobbs
(Maisie Dobbs, #1)
By: Jacqueline Winspear
Narrated by: Rita Barrington
Published: March 2005
Published by: Sound Library
Format Read: Audio book, Libby, Library book
Genre: Historical Fiction, Mystery
Rating: 4/5
♥♥♥♥
Synopsis
Hailed by NPR's 'Fresh Air' as part 'Testament of Youth', part Dorothy Sayers, and part 'Upstairs, Downstairs', this astonishing debut has already won fans from coast to coast and is poised to add Maisie Dobbs to the ranks of literature's favorite sleuths.

Maisie Dobbs isn't just any young housemaid. Through her own natural intelligence — and the patronage of her benevolent employers — she works her way into college at Cambridge.

When World War I breaks out, Maisie goes to the front as a nurse. It is there that she learns that coincidences are meaningful and the truth elusive. After the War, Maisie sets up on her own as a private investigator. But her very first assignment, seemingly an ordinary infidelity case, soon reveals a much deeper, darker web of secrets, which will force Maisie to revisit the horrors of the Great War and the love she left behind.
My Thoughts
The first book in the Maisie Dobbs mystery series has been one of my most anticipated reads and it definitely lived up to my expectations.
Set after the first World War, it explores the lasting effects trauma had on the survivors, including the soldiers who fought and (in the case of Maisie Dobbs) the medics who saved their lives. Many of these heroes returned home with devastating injuries, both physically and mentally. This is the first time I have read about how their experiences at war have changed their opinions about society and their countries. I didn't expect for this mystery novel to touch on a topic I would find so thought provoking.
I did find it odd when the main story was put on hold, as the author went into a very detailed section about Maisie Dobbs youth. Although her backstory was interesting and pertained to the main plot, it was oddly arranged.
Rita Barrington's narrative of the novel was spot on and I enjoyed her interpretation of the different accents.
In closing Maisie Dobbs is a solid thought provoking, historical mystery that I would highly recommend. I look forward to reading book two soon.