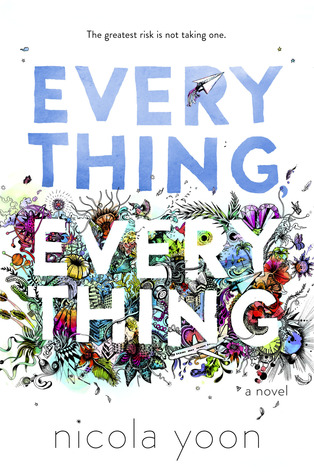 Everything, Everything
By: Nicola Yoon
Published: September 2015
Published by: Delacorte Books for Young Readers
Format Read: Hardcover, Library Book
Genre: YA Lit
Rating: 4/5
Synopsis

My disease is as rare as it is famous. Basically, I'm allergic to the world. I don't leave my house, have not left my house in seventeen years. The only people I ever see are my mom and my nurse, Carla.

But then one day, a moving truck arrives next door. I look out my window, and I see him. He's tall, lean and wearing all black—black T-shirt, black jeans, black sneakers, and a black knit cap that covers his hair completely. He catches me looking and stares at me. I stare right back. His name is Olly.

Maybe we can't predict the future, but we can predict some things. For example, I am certainly going to fall in love with Olly. It's almost certainly going to be a disaster.

-Goodreads
My Thoughts
I've never read a book that I enjoyed so much, but has so many issues with, like I did with Everything, Everything.
This book has been surrounded by so much hype, that I went into it with very high expectations. To some extent it did live up to those expectations, as is evident by my 4 star rating. The light contemporary tone moved the plot along quickly. I really enjoyed the mixed media format, which was illustrated by the author's husband David Yoon. These two aspects made for a fun reading experience.However this really took away from the serious situations Madeline and Olly were facing in their lives. As a person who has spent her life in isolation, I thought that Madeline would have been more psychologically affected than she was portrayed.
As I read along I kept thinking about the different possible paths the story could have taken. I think that I may have enjoyed Everything, Everything even more if it were told in more of a serious tone. It also could have made for an interesting suspense novel.
Despite the issues I had, I would still recommend Nicola Yoon's Everything, Everything to fans of cute contemporary YA lit.