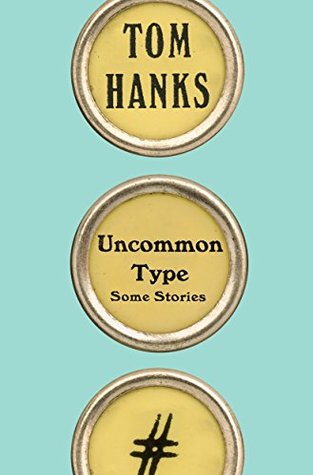 Uncommon Type: Some Stories
By: Tom Hanks
Published: October, 2017
Published By: Alfred A. Knopf
Format Read: Hardcover, Library Book
Genre: Short Stories, Fiction
Rating: 2.5/5
♥♥.5
Synopsis
A collection of seventeen wonderful short stories showing that two-time Oscar winner Tom Hanks is as talented a writer as he is an actor.

A gentle Eastern European immigrant arrives in New York City after his family and his life have been torn apart by his country's civil war. A man who loves to bowl rolls a perfect game–and then another and then another and then many more in a row until he winds up ESPN's newest celebrity, and he must decide if the combination of perfection and celebrity has ruined the thing he loves. An eccentric billionaire and his faithful executive assistant venture into America looking for acquisitions and discover a down and out motel, romance, and a bit of real life. These are just some of the tales Tom Hanks tells in this first collection of his short stories. They are surprising, intelligent, heartwarming, and, for the millions and millions of Tom Hanks fans, an absolute must-have!

Featuring additional performances by Peter Gerety, Peter Scolari, Cecily Strong, Holland Taylor, and Wilmer Valderrama on "Stay With Us."
My Thoughts
Uncommon Type is a collection of fictional stories that all have one thing in common; they mention typewriters in one way or another. Now the machines aren't the main focus of the stories (with the exception of one), but they are weaved into the stories briefly to tie them together.
I admit that I picked up this book on a whim, out of curiosity, being a life long fan of Tom Hanks. Although I would also like to add that I didn't begin it with the highest expectations, after reading the description. With a 2.5 star rating, it is safe to say that I definitely did not love this book.
I struggled to finish the first story, as it just didn't interest me and I didn't care for the characters. Thankfully the second would keep my attention more. However I found that a pattern formed, going from some interest to little as I continued reading.  There wasn't a single short story that I would have given a rating over 3 stars.
My rating was based solely on my own personal interest in the content and not the ability of the author. Because in reality Tom Hanks isn't a bad writer. Each story was authentic to Hank's voice, his own interests and personality.
Unfortunately I think that I would have enjoyed an autobiography written by Tom Hanks, than this collection of short stories. However I would recommend it to others.